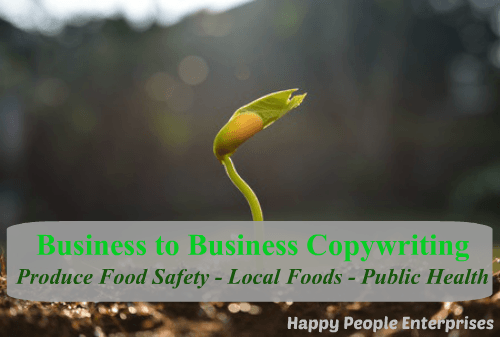 Professional B2B Copywriting
Specializing in agriculture copywriting  in  the produce safety, local foods  and public health spaces.
My experience in public health, working on a local food hub startup project was the beginning of my start in produce safety  copywriting.
During the early days of the buy local food movement, there was a lot of confusion and misinformation about produce  safety regulations at the farm level.
Many in the purchasing side of buying local were expecting food safety at the farm level to meet retail food regulation standards. That's just not so.
With my extensive regulatory enforcement background, it was a natural for me to do the research and write about food safety regulations a food hub would encounter.
Especially in the early days, local food buyers had a difficult time understanding that food safety regulations applicable to farms were different than the regulations restaurants and grocery stores had to comply with (although, with much education and training, this is changing).
I wrote a white paper explaining the differences and …BOOM… my produce safety copywriting expertise was cemented!  The original document was eventually posted on the USDA website.
Currently, a significant portion of my time is spent freelance copywriting and consulting on produce safety regulation topics for produce growers.  I also write curriculum and educational materials for produce grower training  and also present through workshops and webinars.
I also provide public health copywriting and internet research services as needed in these specialty areas.
My copywriting services include:

Blog posts
Business Plans
Brochures
Case Studies
Educational-marketing
Fact sheets
Grants
Guidance documents
Newsletters
Reports
Presentations
White papers
Web content
Portfolio Samples
Review samples of my work at these links:
Produce Safety Copywriting Portfolio
Public Health Copywriting Portfolio
Other Copywriting Portfolio Examples
Contact me to see how I can support your copywriting needs!
The following two tabs change content below.
Pam
Pam is a freelance professional B2B copywriter, consultant and trainer for the agriculture, produce safety, local foods, and public health industries. She is also a Produce Safety Alliance Certified Trainer. Email her to discuss your next project. (Whew!! She loves writing about herself in third person...NOT!)