Share This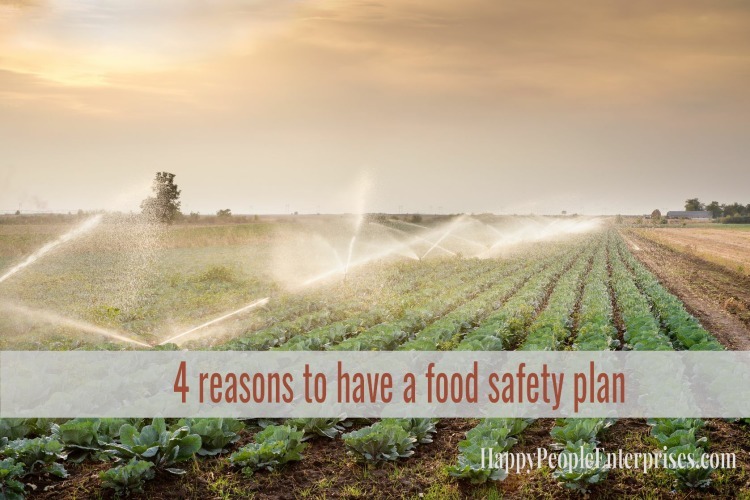 4 Reasons to Have a Food Safety Plan
You're busy doing what you do best – and love – growing, beautiful, mouthwatering fruits and veggies. Who has time for paperwork, right?
I hear you!
I don't care how good Your food safety plan is, if it's IN. YOUR. HEAD. it's only good for the person who has access to it, YOU!
I hate to break it to you, but if a food safety plan isn't documented, it doesn't count. Here are 4 reasons to have a food safety plan (and there are probably more):
1. No worker can follow it – as a farm manager or operator, you can't be everywhere all the time.
What time of day (outdoor temperature) do you aim to finish harvesting for optimal crop quality,
Do you have to wash and sanitize tools before harvesting,
How to mix sanitizers.
2. No buyer can review it – check to see how you are handling key aspects of your farming operation.
Crop cooling at harvest and during storage and transport to the point of sale,
What you do if a worker comes to work sick,
Rules on allowing pets in the fields,
Application of soil amendments and time to harvest,
Water quality documentation,
Or other food safety related questions.
3. No audit can happen – if you are selling directly to a buyer, they may want to do an informal food safety plan review and audit themselves. Other wholesale or retail buyers may require a 3rd party audit as a part of the transaction.
You can't write a plan at the time of harvest, when you are negotiating a sale to a wholesale or retail buyer
Not documenting an existing written plan's practices (with receipts, SOPs, log sheets, water test results, etc) on what you did during the growing season
4. No proof can exonerate you during an outbreak – if your farm's crop(s) are identified as potentially being part of a suspected outbreak, you want to quickly be able to clear your farm's name from suspicion.
Fine Tune Your Food Safety Plan
The good news is that you probably already have good agricultural practices in place on your farm. Maybe it just isn't written down in a food safety plan. You probably even have some informal documentation happening in various forms – pocket-sized notebooks, email receipts and the like.
With the new Food Safety Modernization Act (FSMA) produce rules finally in effect, the earlier in your growing season would be a good time to see how your existing practices measure up. That way you can start the season off on the right foot.
I would hate to see you miss out on a sale because you don't have a food safety plan.
If you need help reviewing your existing plan or documenting your food safety practices better, let me help.
So YOU can get on with growing that beautiful produce!
Pam offers experienced, professional, freelance B2B copywriter, consultant and trainer services primarily on produce safety, local foods, and public health topics.  She writes all forms of B2B content on other topics, too, and helps clients develop a content strategy to meet their goals. She also writes on
Share This




Follow Us