Share This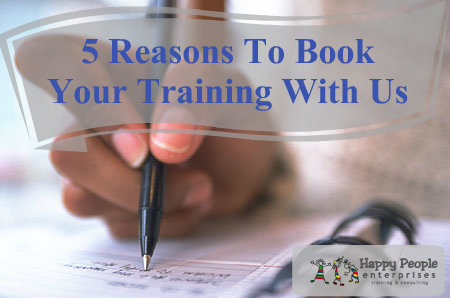 What sets us apart?  That's a legitimate question.  You can choose from many training options
While our approach to training isn't common, it is very effective…and that's what you want.  Fun, entertaining and experiential learning activities, are all combined in each program to help it sink in.  Here are 5 reasons to book your training with us:
 1. You're the Host.
Training is done at your facility. Not paying us for meeting room rental fees and refreshments is a huge savings.  That means more of your money is going to training your staff.
2. The Per-Person Cost is Low.
In fact, by using your conference room, the cost is low enough that you can afford to train your whole staff rather than sending a few people off site.  That's more effective because they all represent your company to the public.  And it's very difficult for people to come back and train the rest of the staff on what they just learned.
3. Training is Customized to Your Needs.
Nothing is worse than evaluate the adequacy of training based on a summary; send some people off site and then find out the training didn't quite meet your expectations. The trainer didn't understand your industry, couldn't relate any of the techniques to your day to day activities and now your people have to make the leap of trying to adapt what they learned to what they do.
4. You Get Immediate Take-Away Results.
Not only are you taught proven principles, but through experiential learning activities you are given the opportunity to practice what you're learning. Hearing information is one thing, applying it during training is another.
We know people absorb information differently: some are visual, some auditory, others by doing and still others by discussion – or any combination!  It takes a while for us to learn just about anything new – just like learning a new language.  You hear it, and then promptly forget to implement what you just learned.  You need the repetition to help make it stick. Training programs use these layers of learning to help reinforce the new skills.
5. Access to Powerful Online, Interactive Tools.
After most training programs you're on your own…and that's a cold and lonely place to be.  Not with us.  As part of your training, you get content rich training materials that you can refer back to as you learn to implement the techniques.  You also have online, interactive resources at your fingertips to help you with communication issues as they come up.  Access these whenever you need a quick reminder of how to use the principles to get the results you're looking for.  And you can always call us back for one-on-one consulting for specific problems that crop up.
Pam offers experienced, professional, freelance B2B copywriter, consultant and trainer services primarily on produce safety, local foods, and public health topics.  She writes all forms of B2B content on other topics, too, and helps clients develop a content strategy to meet their goals. She also writes on
Share This




Follow Us