FSMA & GAPs Produce Safety Consulting
Helping you CONQUER produce safety overwhelm!
Whether FSMA effects your farm directly or not, now is the time to review your growing practices to make sure they fall in line with GAPs (Good Agricultural Practices).   FSMA & GAPs produce safety consulting can help you review your practices in a non-regulatory environment and make improvements where needed.  Why?
On-farm food safety is changing because of the Food Safety Modernization Act (FSMA), which is anticipated to be published in late 2015.  GAPs practices are one level in safely growing, harvesting and packing fresh produce.
Are You Affected by FSMA?
Produce growers of all sizes are likely to be affected in some way by one or both of these rules, although exemptions are possible, based on specific criteria. 
For more information on whether your farm needs to comply with the FSMA Produce Safety Rule or  GAPs, read here.
Buyer Expectations Are Changing Too
Buyer expectations have also changed.
Increasingly they are asking for documentation about a farm's food safety practices.
In certain situations, this is requiring produce growers to have  3rd party audits before a sale can be completed.  An audit can't be done if there is no food safety plan documentation to review.
Is Your Food Safety Plan In Your Head or Written Down?
Be assured, no grower maliciously intends to harm people with the produce they grow.  They implement food safety practices every day in their operations. 
There are many components a food safety plan needs to consider, and they should be tailored to your farm operations.    You can this wordcloud as a checklist.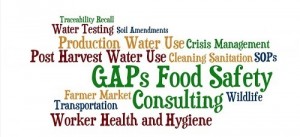 However, as a produce grower, the question to consider is whether your growing practices are written down?
Unfortunately, if it isn't written down (that darn recordkeeping/documentation part!), you can't prove what you're doing. Read more about that in 4 Reasons to Have  A Food Safety Plan.
Do you need to CONQUER your food safety plan challenges?   I can help!
Consulting Services Include:
GAPs food safety training curriculum development and workshop presentations.
On-farm food safety plan development
Evaluation of existing plan protocols and documentation.
Previous Clients Include:
Colorado Farmers Market Association
Colorado Fruit & Vegetable Growers Association
Colorado State University Extension  – Larimer County
Greeley-Evans School District 6
HealthyWeld2020
For more information  and a complimentary consultation,  Contact Pam