Share This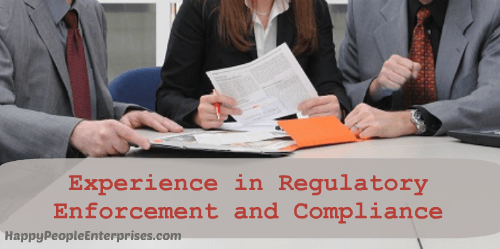 Choosing the right consultant can be challenging.  You want someone that has experience, industry knowledge, and of course, innovative ideas.
No one likes to send their staff to 'canned' training programs, hoping they'll walk away knowing how to apply what they've learned.  And it doesn't matter how good the presentation – if you don't know how to use it – it doesn't help your organization much, and you go away feeling frustrated.
Same thing goes with hiring a consultant. You need someone who has some experience in your field.
Experience in Regulatory Compliance and Enforcement
We have experience in regulatory compliance and enforcement environment; understand what it's like to tell people what they can or can't do with their property, and know that every decision costs them money.  We're also familiar with working with consultants, engineers, contractors and property owners, all experts in their field, and with differing levels of technical understanding.  In this environment it's important to connect with people the first time.
Community Coalitions
We also know how to work with community coalitions and  stakeholders who each have a part in defining the look of a community.  All participants of a community coalition bring expertise and experience with them.  They have specific areas of focus and interest and are oftentimes passionate about them.  Understanding this and helping everyone communicate their best can be challenging…and rewarding.
Why Us
Happy People Enterprises is a Copywriting, Consulting, and Training company for small businesses, organizations and government agencies who understand the value of relationships.
Copywriting is a normal part of most businesses, whether you need whitepapers, case studies, annual reports, blog posts, SEO website copy or something else. We are experienced in a wide variety of Business to Business copywriting products.
Happy People Enterprises  is experienced in FSMA  and GAPs produce safety, local foods and public health consulting for both private sector and government agencies.  Check out our consulting capabilities for more information.
Happy People Enterprises provides off-the-shelf and customized training and development programs, to businesses, organizations, and government agencies.  We go to you, works with your staff and helps them work with real-world problems.  We develop specific training and development programs customized to your needs.
Programs are presented in a positive, affirming environment that acknowledges the worth of every individual and every personality perspective.  Our training programs offer a fun-filled, interactive experience – we help you immediately apply what is learned. Programs are customized into half-day, one day or two day long trainings, depending on your desired outcomes and objectives.
For more detailed information on why you should book your training with us, see 5 Reasons to Book Your Training with Us.
Contact Pam  for a free consultation, or to find out more about how Happy People Enterprises can help your business, organization or government agency.
Pam offers experienced, professional, freelance B2B copywriter, consultant and trainer services primarily on produce safety, local foods, and public health topics.  She writes all forms of B2B content on other topics, too, and helps clients develop a content strategy to meet their goals. She also writes on
Share This




Follow Us